Solar Slate Plate is a company based in the West Midlands that is dedicated to making solar installers jobs on roofs easier. With over 40 years' combined experience in the roofing industry, current directors Paul Davis and Mike Share have extensive knowledge of how solar installations should be done on each particular roof covering, having been involved in many commercial and domestic solar pv/thermal installations throughout the UK.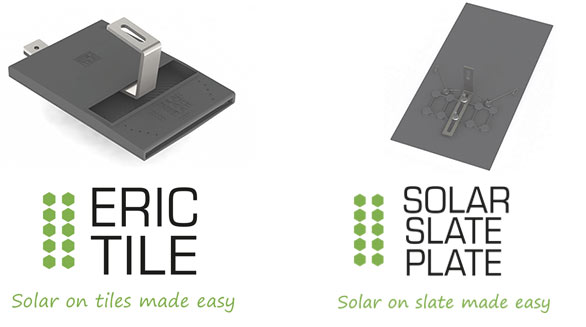 Solar Slate Plate acknowledges the fact that there is a difficulty installing solar modules on certain roof types, and it is here where our expertise excels.
Why, should the property owner be left with roof coverings that are damaged or left with holes drilled through them, and filled with sealant? The owner is left unaware of the potential costly future problems that lie ahead.
Our aim at Solar Slate Plate is to not only provide innovative solutions to long standing problems, we guarantee to make the installations cost efficient, quicker, easier and more reliable than current methods used.
The Solar Slate Plate for slate roofs has been tested at Bre to MCS012 standards for wind uplift and weather-tightness where it achieved a design wind uplift resistance of 1.48 kN for each individual Solar Slate Plate, and our ERIC-TILE for plain/rosemary type roofs achieved a design wind uplift resistance of 0.698 kN with our "L" roof hook and 0.581 kN with our "C" roof hook.
Our mounting systems are based around the knowledge that not every installers methods of making a roof weatherproof are the same. With our products, there is only one way of fitting them, so the quality of every installation will remain the same, regardless of the installers experience, which helps to eliminate costly return visits.
Finally, products that are specific to the problem, that installers can be confident in using.
Solar Slate Plate really do make solar pv/thermal installations on roofs easy.
Please give us a call if you would like any further advice. We are here to help you.