Universal-Choice of 2 roof hooks for different mounting rail profiles
No need to purchase spare slates/tiles
Complete weatherproofing Quicker installations
ERIC-TILE has cable entry points
Welcome to Solar Slate Plate.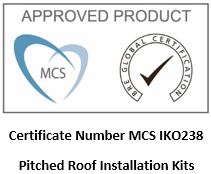 All of our roof mounting systems are fully tested and approved to MCS012 standards.
Solar Slate Plate and ERIC-TILE are quick and simple to use, with no fuss and no mess.
Solar Slate Plate's innovative designs help to reduce installation times and eliminate health and safety risks and issues.
You don't need to use mastics or sealants to provide weatherproofing. If breakages do occur, you won't have to purchase replacement slates or tiles that add extra costs, as the Solar Slate Plate and ERIC-TILE are direct replacements of the slate or tile, leaving you with plenty of spares. Both products are simple to use and are supplied with all of the roof screws/components required to fit to the roof's structural members.
We have provided our solutions for social housing projects, schools, shopping centres and domestic installations throughout the UK and Ireland, whereby our clients have saved on installation costs by completing projects much sooner than expected.
Our mounting systems are based around the knowledge that not every installers methods of making a roof weatherproof are the same. With our products, there is only one way of fitting them, so the quality of every installation will remain the same, regardless of the installers experience, which also helps to eliminate costly return visits.
Finally, products that are specific to the problem, that installers can be confident in using.
Solar Slate Plate really do make solar pv/thermal installations on roofs easy.